IELTS Speaking addon is a useful tool for the IELTS speaking practice. It comes with all the features reuired to practice and imitate the speaking mock enviournment.
IELTS speaking add-on manages virtual speaking test in separate parts. Starting from the microphone test to reviewing your recorded audio. 
This speaking add-on is categorized into three parts, Intro topic, and discussion. Speaking software allows you to manage different instruction pages for each section. 
To enhance the experience Speaking software allows you to add text and audio to each question
Thinking time before each question gives candidate real exam experience 
Click to skip the thinking time and start recording
Once the candidate completes the first part he can review his audio before continue with the second part.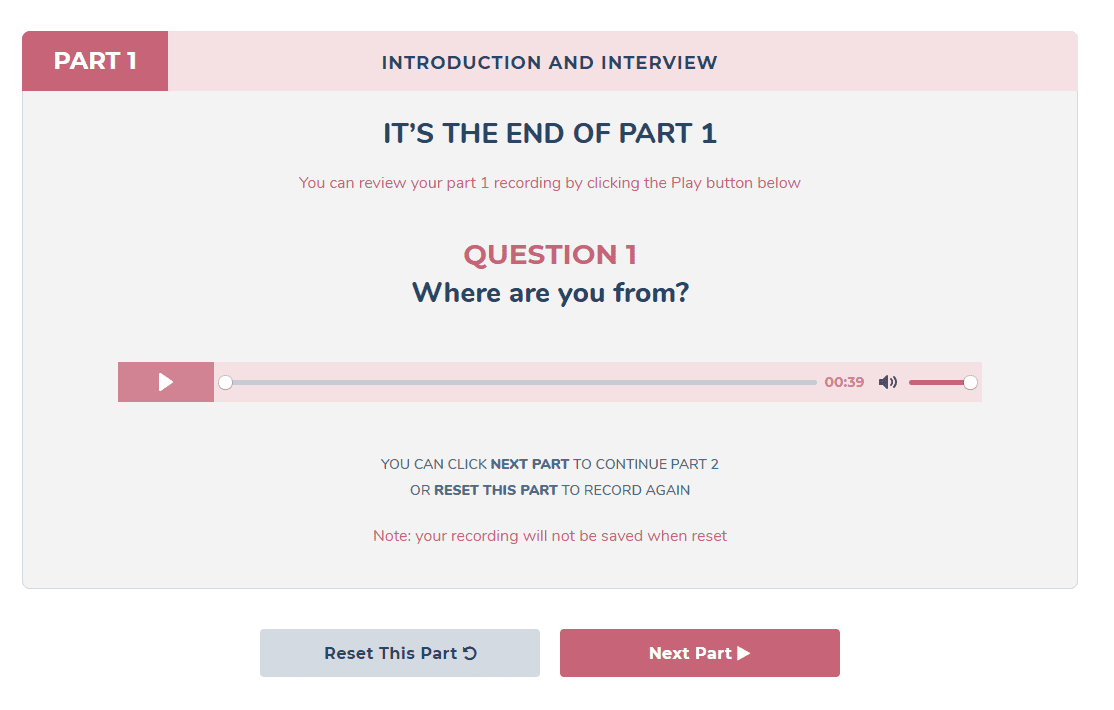 After the completion of the test, students can listen to all the answers and work on improvement. 
Features and Benefits of our IELTS Software
Taking interaction into consideration, speaking test in IELTS will judge you on the use of your spoken English which is of around 14 minutes where you get to discuss about many things with the IELTS examiner. Speaking test can be held on same or another day or different locations from the other three modules (Reading, Listening and Speaking) of the test. Below are some characteristics which will ensure genuine preparation for the real exam:

1.This module of the examination is categorized into three parts in which part 1 involves Introduction and Interview that will question about you, part 2 consists of speaking about a given topic and part 3 includes a discussion session that is related to the topic you spoke about in part 2.
2.Starting of this test will show you instructions that you need to follow. There will be an active timer to prompt you of the time left to complete the module.
3.A candidate has to use a computer and headset to read and respond to the questions that will be asked in the test.
4.Font Size can be reduced or enlarged as per your vision and requisites. This option is provided for legibility and text impact so that a participant can properly recognize things. Font size option on the screen makes text quite easy and understandable for the reader.
5.Your words in answers will be recorded for examining the performance in all three parts of this section. You can also analyze at your level by listening to the recording. A reset option is also provided to practice if you aren't satisfied with your answers.
6.Before answering to a particular question, you'll get some amount of time to think over it as to answer perfectly in the best way possible.
7.There is a tool available for making notes which will help you keep important points in mind for proper answering.
8.A key feature of this software is you can listen to audio clip of questions with the text displayed on the screen as well.
9.Review your work before final submission. Make sure you attempt maximum number of questions.
10.A candidate can consult an IELTS professional expert to make his/her performance assessment done and get scored.
11. A candidate's detailed feedback and the band score for this module will be available within 48 hours of completing the test.
12. You can go to the report column if you notice any mistakes during the test. One can easily review and share his/her test and recording.

Here are some advantages of the features mentioned above that will let you know why our
software should be preferred: 

1.Presence of notepad in the test itself enables one to write down essential points and it doesn't require any kind of training to work with.
2.Timer, a specialized clock helps the candidate to complete the test on time and avoid delays. It is significant in configuring the appeared person's potential throughout.
3.Scaling font size larger or smaller as per the requirement is advantageous from the point of vision and focusing on salient key traces.
4.Review tab on screen aid the candidate with systematic evaluation of the questions attempted by him/her which will enable the person to finish the task and be on time.
5.Review of recording will be beneficial to correct yourself if you've mistaken. One can record, reset and review it as many times he/she wants in the time limit.
6.Consulting with the professional IELTS expert will give you genuine experience of your real test and you can improve to a much greater level if it's required.
7.You can look to your dashboard anytime you want which will show your test performance with practice history, band score and much more for every module separately.

Overall, we can say it is a real time genuine experience for main IELTS examination and an aspirant can prepare through this software to a great extent. Its countless features make online testing simple and easier for a candidate to get best scores.