White Label Solution. Built on WordPress.
The most advanced IELTS Software for your online courses, institutes,
communities and membership sites
IELTS LMS is used by top IELTS trainers to power
highly successful online courses websites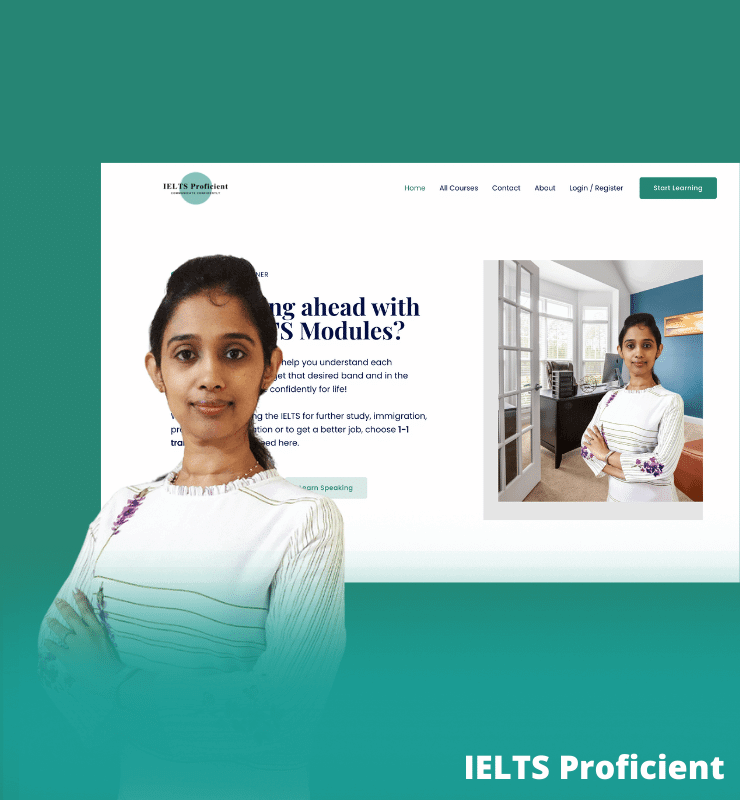 I have attended and also conducted various classes on IELTS LMS and this is by far the best online platform to conduct IELTS Tests. The uploading features, assigning tests and then reviewing it are simply awesome.
Great use of the platform, all my students liked it. the platform has been very consistent and new features added recently make it great to use. I was looking for a Virtual Classroom with basic functionalities but what I found was more than that. Great platform.
I think the IELTS LMS software is really wonderful and I like how all the features are under a single platform. The application is very easy to use and has very less distraction. It is very user friendly and I think the interface provides everything I need for my class.
Very positive so far and I hope this will only grow as I continue to discover more about it's capabilities and use them.
Over 1,000 customers trust IELTS LMS.
Powerful LMS Capabilities with Full LearnDash Support
IELTS LMS uses LearnDash, one of the most popular WordPress LMS (Learning Management System) solutions on the market. We did not want to re-invent the wheel, but rather integrate the powerful LMS as a key component of the IELTS solution
Multi-Tier Courses
Advanced Quizzing
Certificates & Badges
User Reports

Assignment Management

Intelligent Course Builder

Tin Can API Support

Lesson Timer

Drip Feed Content
Course Points

Flexible Prerequisites

Email Notifications
Expire Access

SCORM Support
IELTS LMS is a white-label solution designed to adopt your brand.Take Listening tests with instant results and Band Calculation on the spot. Keep track of your users' performance
Import 100+ Free Test

Tests Upload
Instant Band Score

Result Page Settings

Passage Annotation

Test Timer
11 Question types

Detailed Explanation

And more…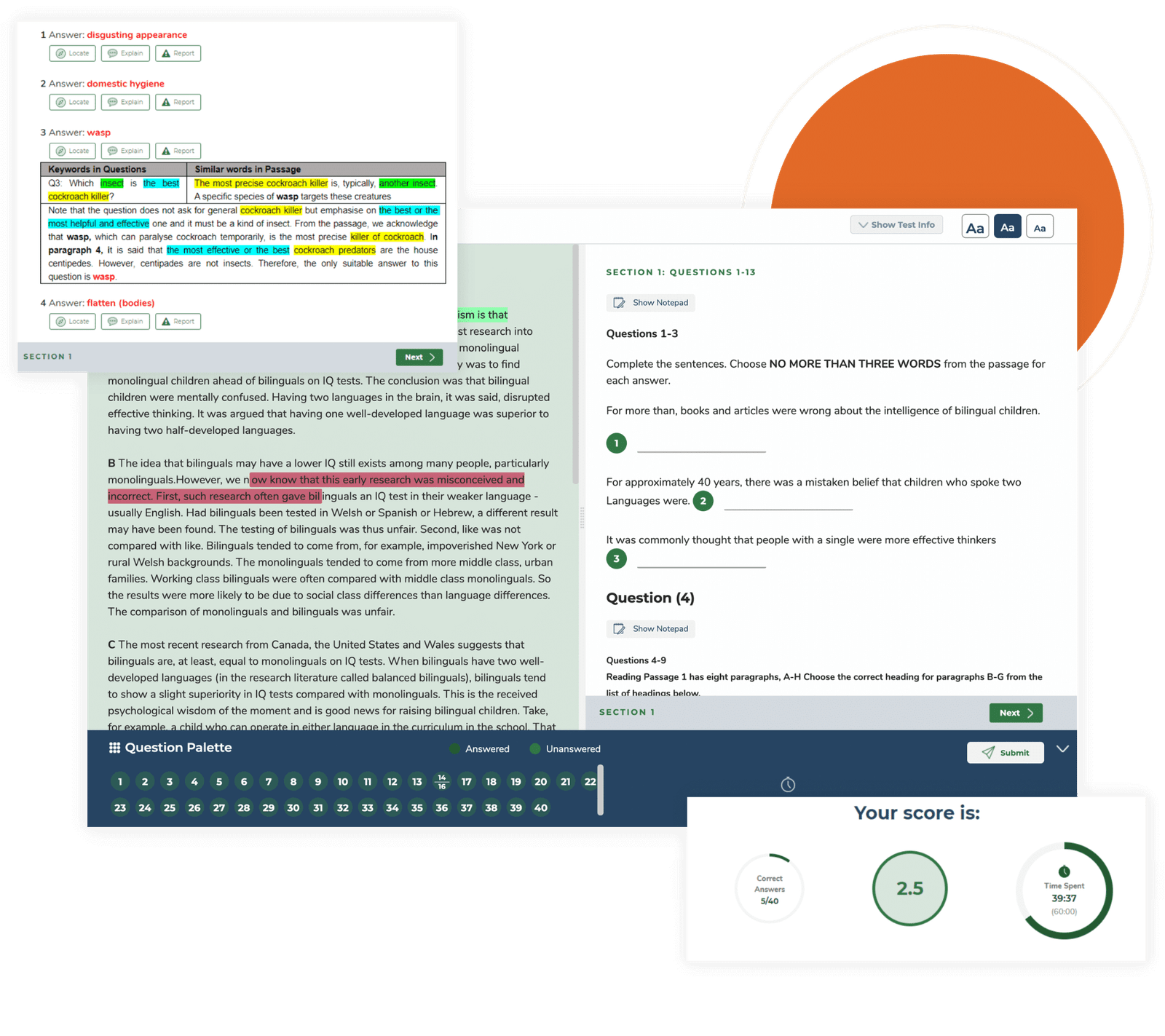 Conduct Listening tests with instant results and Band Calculation on the spot. Keep track of your users' performance
Import 100+ Free Test

Tests Upload
Instant Band Score

Result Page Settings

Passage Annotation

Test Timer
11 Question types

Detailed Explanation

And more…
IELTS LMS Writing is a super easy way of conducting writing tests. Test evaluation with audio reply an comment box saves a lot of time.
Import 100+ Free Test

Tests Upload

Sample Answer
Evaluation by Trainer
Audio Evaluation

Test Timer
Word Counter

Advance Reporting

And more…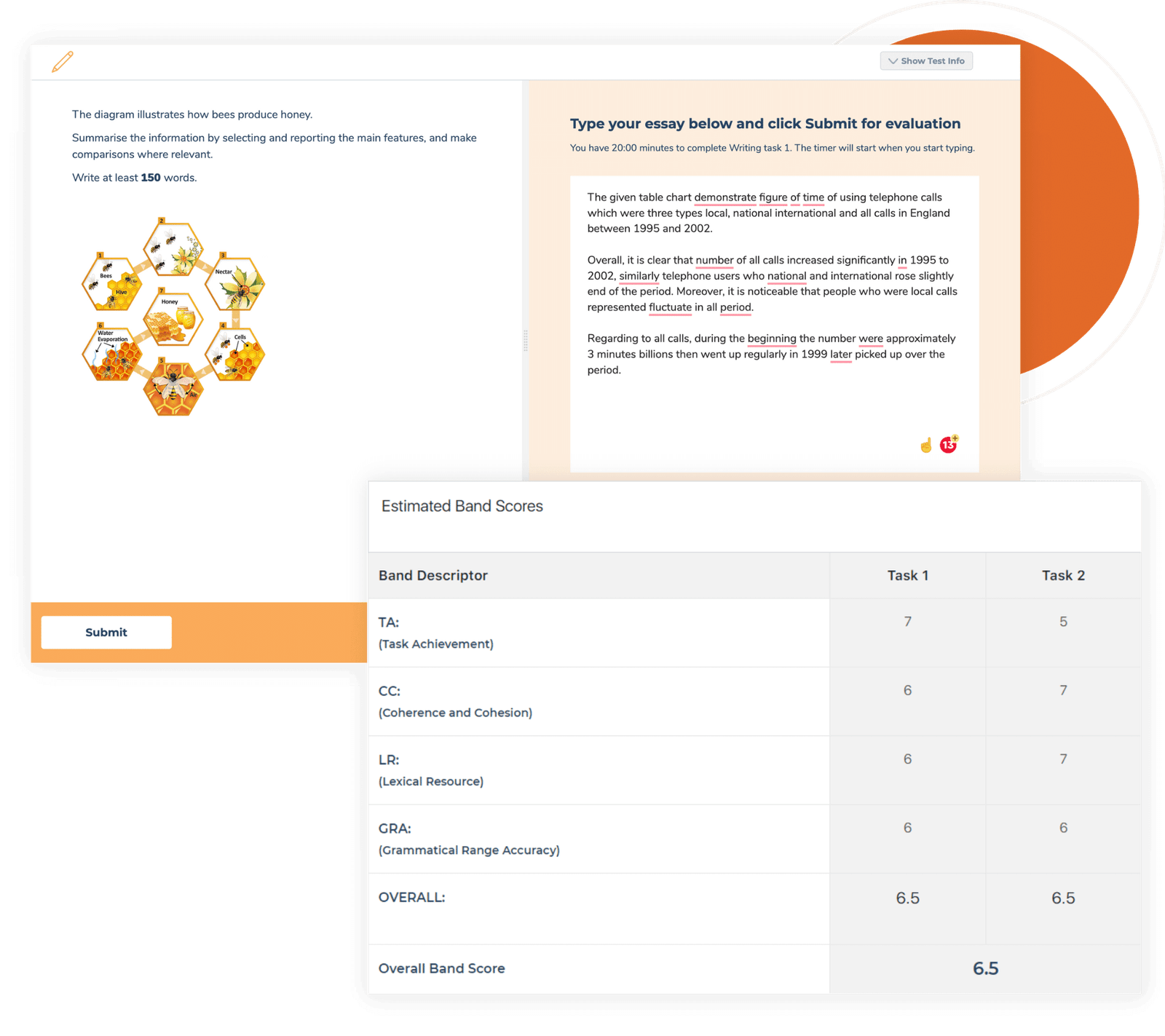 IELTS Speaking addon is a useful tool for IELTS speaking practice. It comes with all the features required to practice and imitate the speaking mock environment.
Import 100+ Free Test

Tests Upload

Sample Answer
Evaluation by Trainer
Audio Evaluation

Test Timer
Word Counter

Advance Reporting

And more…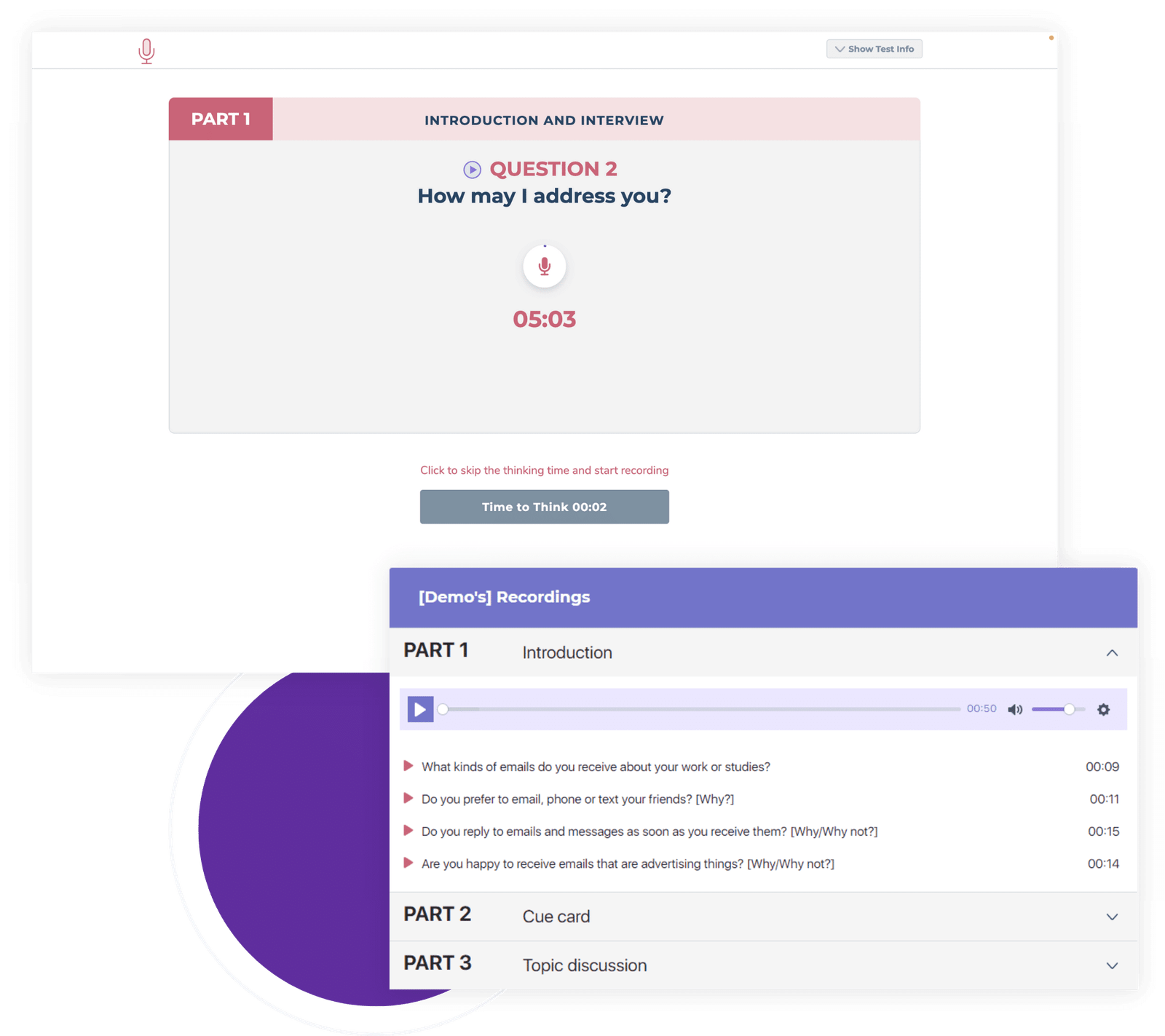 Start now and Grow your online coaching business with IELTS LMS
Enable Social Learning for your Learners
Enable your students to connect under your brand. Increase engagement and retention, and gather valuable feedback. Allow your students to learn from each other, increase your brand's value, and reduce your workload.
Forum Discussions for your Learners
Forum discussions are a great way to increase engagement in online learning. Forums help build community and social learning by connecting learners to each other.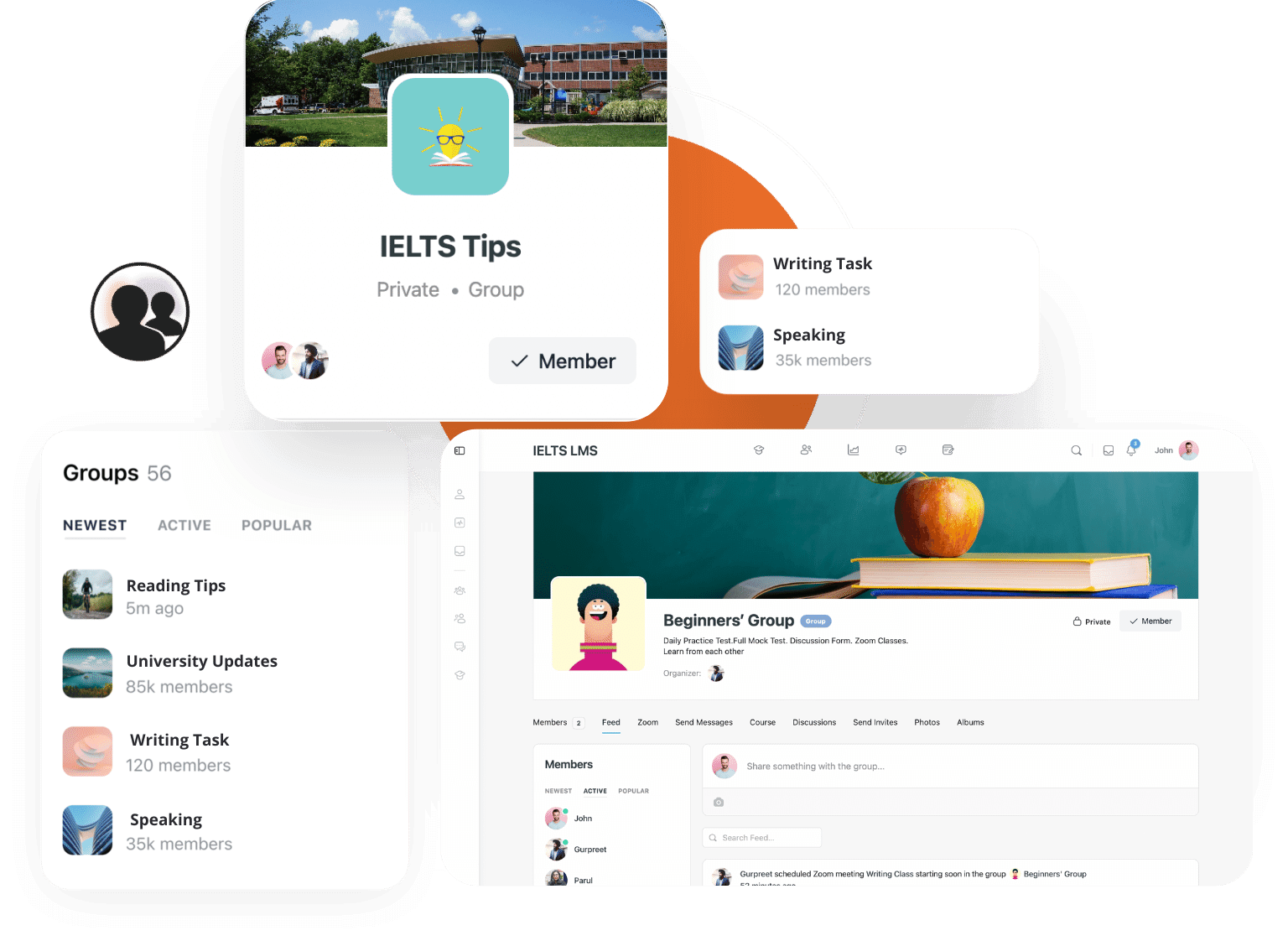 Virtual Classroom Experience
BuddyBoss Integration provides you with batch functionality that allows you to mimic a classroom setting with integrated courses, discussion forums and advanced Zoom integration.
Create batches around a specific topic or for a specific batch of people such as a Class, a team or a department.

Your batches can be set to be private, hidden or public. You can create batch types such as "Team", "Class", "Department", as well as group roles, such as "Organizers", "Teachers", "Administrators", "Leaders" etc…

Batch members can use batch forums or the batch activity feed to interact and engage in social learning.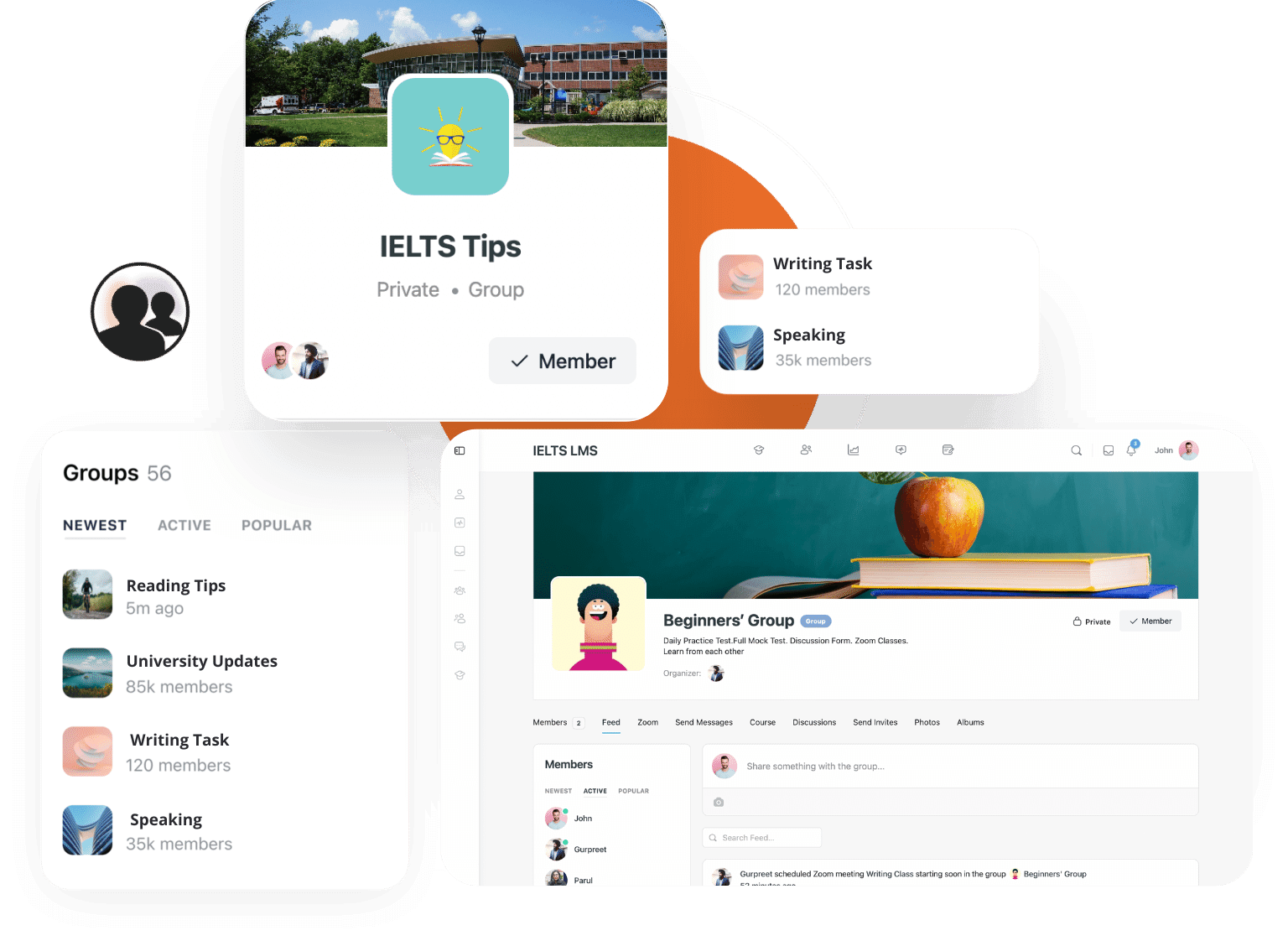 Sell and deliver digital content, live training, and online courses using the Zoom integration for BuddyBoss.

Create and host Zoom meetings within IELTS bathes, view upcoming meetings, past meetings, and allow students and others to watch recordings while controlling access, and more.
Schedule Live Classes within IELTS Batches
Create one-time and/or recurring online class sessions and Zoom meetings for a specific audience based on the batch they belong to.
Students receive real-time site notifications of upcoming classes and meetings and allow them to view details with just one click.

Enhance Students' Learning Experience
Have the tools you need to delivery quality learning experiences for your online coaching business, tutoring, or online courses website.
Increase student participation and engagement with live chat and Q&As, screen sharing, polling, virtual whiteboard, breakout rooms, and more.

Manage Virtual Classes Efficiently
No more swapping back and forth between apps. The integration's simplicity extends to setup and management.

Creating and rescheduling online classes automatically syncs details across WordPress pages and course content where meeting details are published.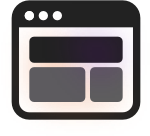 Create Zoom Meetings as Gutenberg Blocks
Embed Zoom meetings and recordings using Gutenberg blocks that can easily be placed into WordPress pages and course content.
Zoom meeting details include a countdown timer so participants can easily join meetings at the right time.
Turn Past Meetings into a Resource Library
Share multiple resources from past Zoom meetings including video recordings, audio recordings, transcripts, and chat files depending on your configured Zoom meeting settings.
Engage Learners, with a Gamified Experience
Empower your people to work towards common goals and earn points, badges, rewards, ranks, certificates and achievements. Give your people a sense of autonomy, mastery, purpose and progress. BuddyBoss doesn't just help you deliver courses. BuddyBoss is a big driver for engagement thanks to powerful social features and integrated Gamification.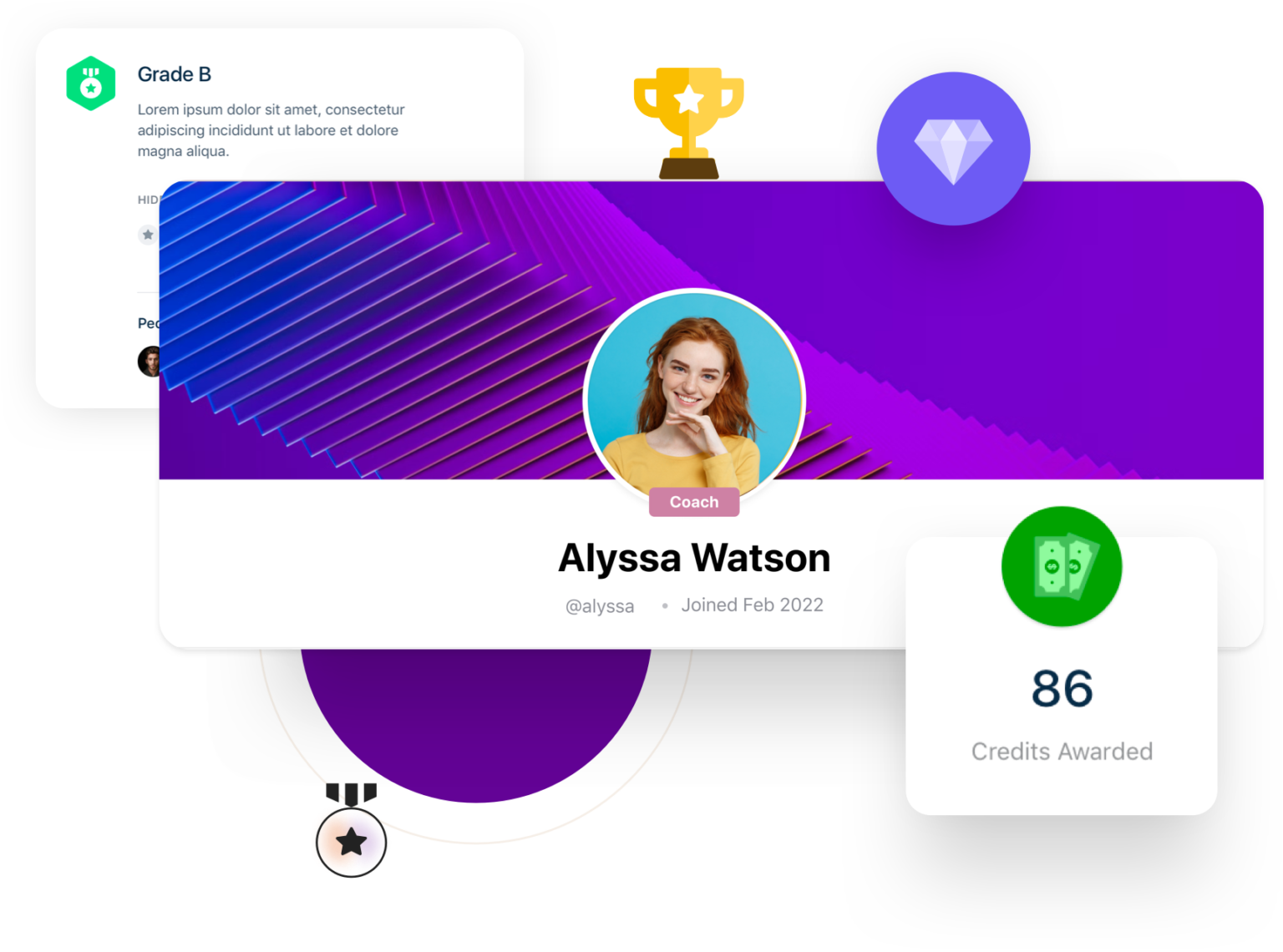 Create professional looking marketing and sales pages for your website with ease thanks to our deep page builder integrations
Works with your favourite page builder
Create and customize your course content pages using popular easy-to-use drag & drop page builders like Elementor, WPBakery, Beaver Builder, and Thrive Architect.

Change colors and fonts, add widgets, and choose from many styling options to design eLearning pages that suit your brand.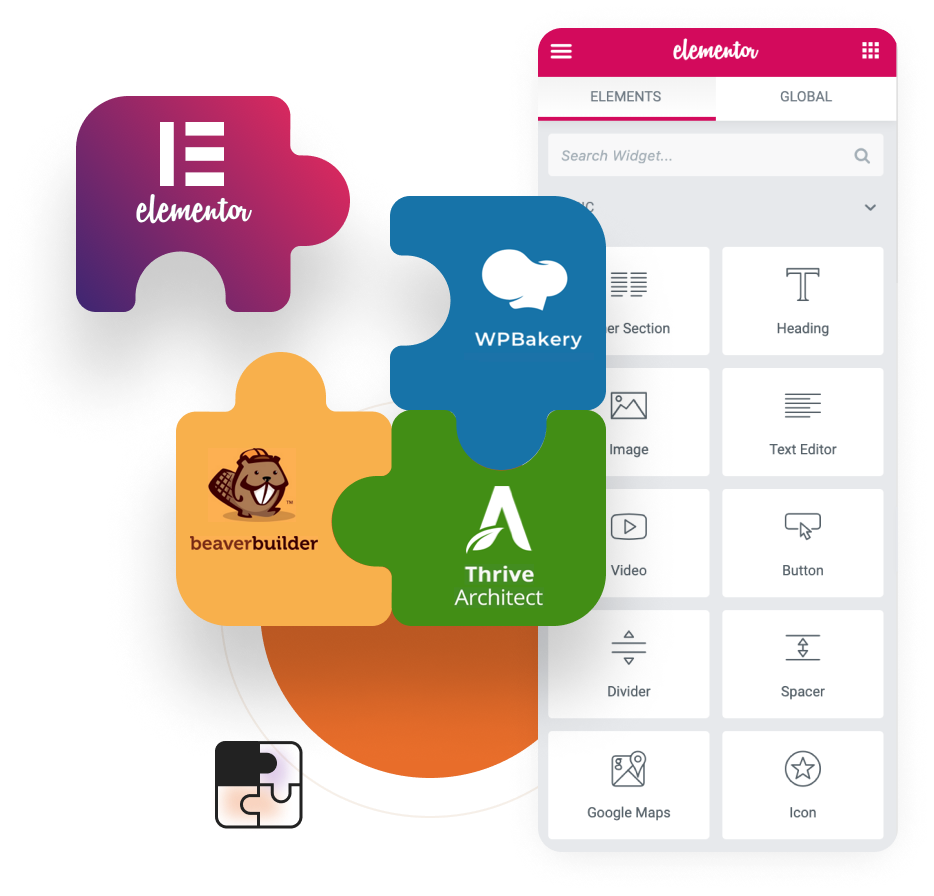 Add custom Elementor widgets that let students quickly view important information about their courses and activities.

Showcase available LearnDash courses, display students' active LearnDash courses and progress, customize course covers, buttons, and more.
Plug & Play Sections™ for Elementor
Build beautiful content pages using pre-built Elementor sections that allow full customization without touching a line of code.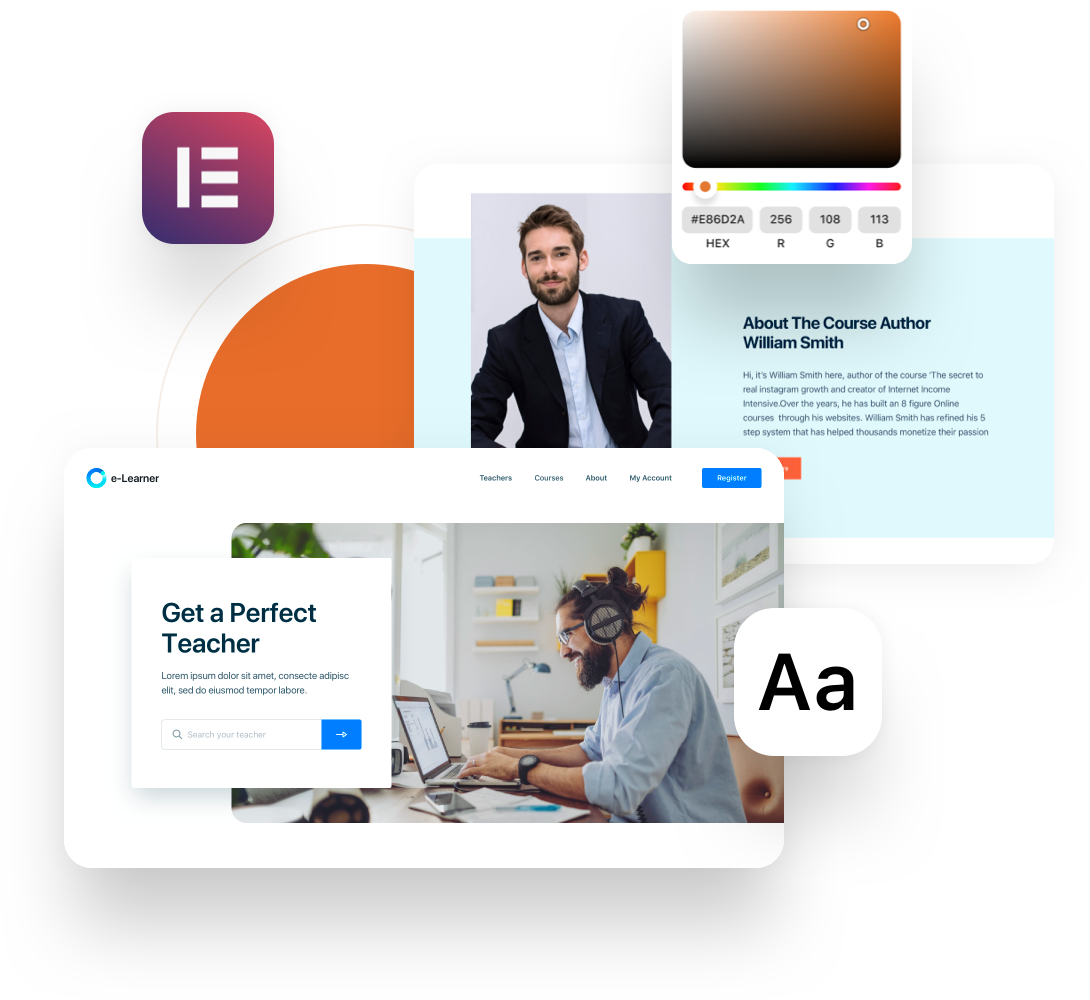 Plug & Play Sites™ for Elementor
Create and customize your own content pages using bespoke full-page templates that complement your eLearning or community pages.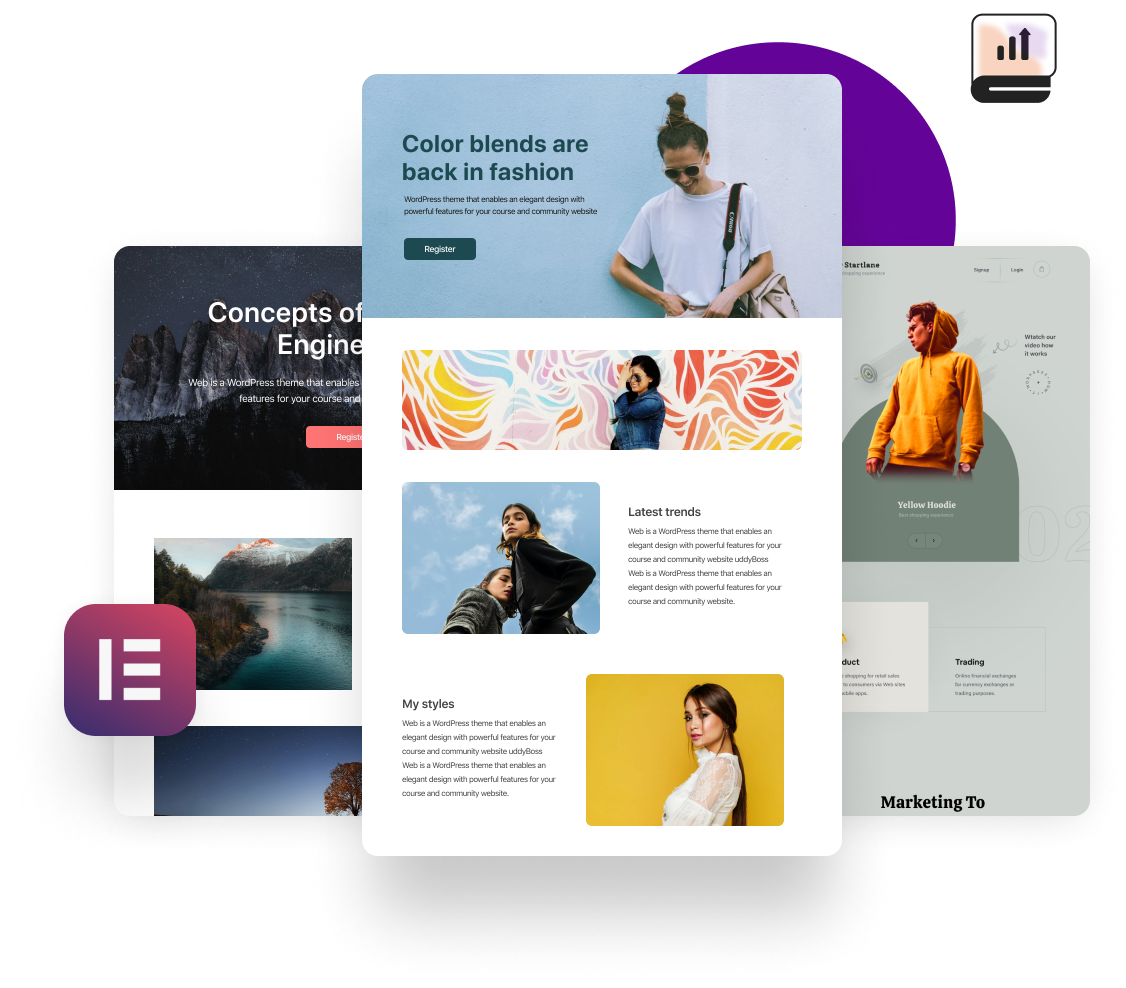 Sell access, generate revenue, & create wealth
Charge subscriptions or one-time payments for access to your community, courses, digital downloads, groups and more.
Sell courses, subscriptions, course bundles or memberships
Use the IELTS LMS plugin with LearnDash and BuddyBoss to create a stunning online learning site and sell access to your online courses and/or community.
Works with most powerful LMS plugins
IELTS LMS integrates with popular membership plugins you love such as MemberPress, Paid Memberships Pro, WishList Member, WooCommerce Memberships, WooCommerce Subscriptions, and Memberium to allow you to manage memberships, protect content, process payments, and more.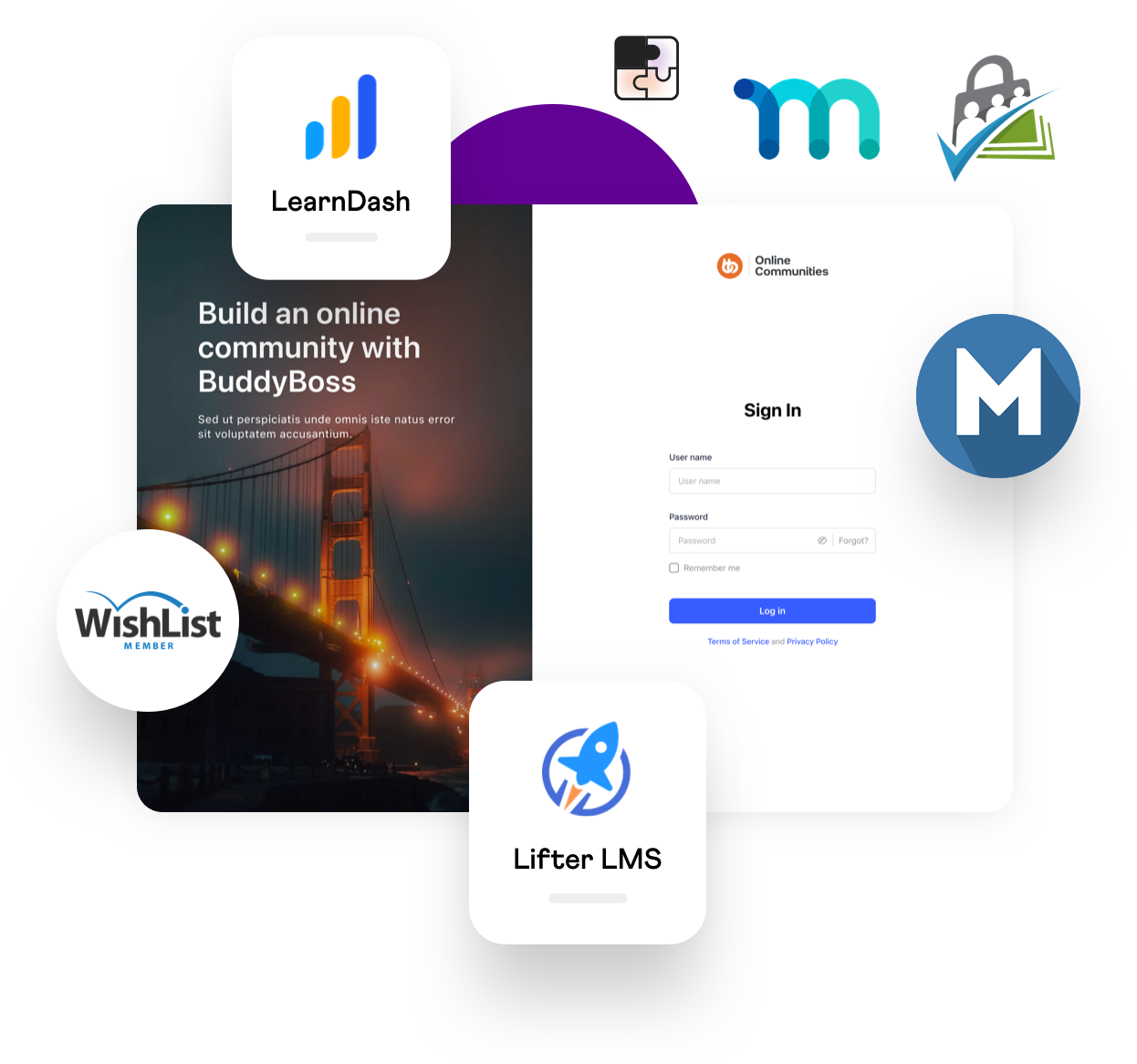 Connect to over 1000+ apps and softwares.
We're confident, you'll love it!
This doesn't include taxes.
Launch your online platform, your way, with ease

This doesn't include taxes.​
Perfect for growing your IELTS business
This doesn't include taxes.​
The complete solution for your business growth
100% Risk-Free IELTS LMS Promise
If you are unsatisfied for any reason for up to 14 days following your purchase, contact us for a full refund. No questions asked.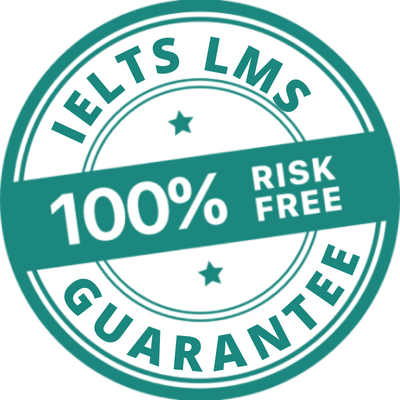 24/7 IELTS LMS Tech Support
Our knowledgeable support team has you covered 24/7 everyday.

We take support seriously, and employ a dedicated support team and ticketing system. You can easily create a new ticket from our Help Desk, read our guides, watch narrated videos and discover answers to common questions in our step by step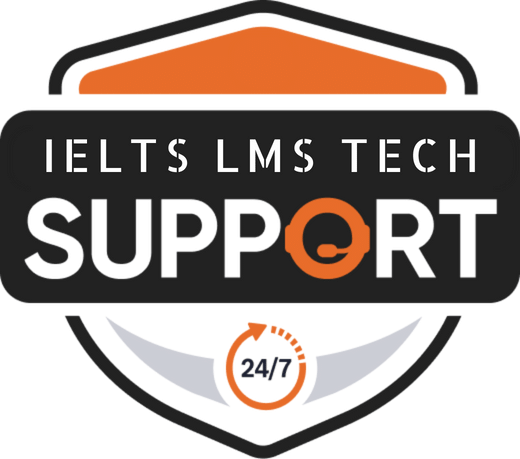 Guides to get Started
Guides available to help you get started quickly with setting up your online courses, community or membership site.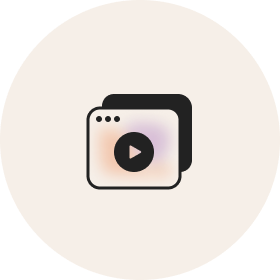 Narrated Video Tutorials
We have create dozens of short and to the point video tutorials to guide you through every steps. We're constantly Adding new videos to our library
Step by Step Documentation
You can follow step by step documentation available both online and in your WordPress dashboard. And if you're a developer, our developer documentation will come very handy!